Get Clarity With Your Career Or College Path: Use Your Phone And This Magic Mentor Search Tool To Connect.
Are you interested in a career, a career change or working toward an entrepreneur venture?
You can create shortcuts and simple steps toward clarity by identifying who already does what you want to do, who does it well, and who does it best in the world.
Start by reading, listening, and watching their content. After you do that, ask them a few questions through today's social platforms or on an actual phone call or video call, then act on the result.
Find mentors…
Best in the field you want to work in
In the school where you may want to enroll
1 year out of that school getting started in the field
3-5 years out of school established in the field
Businesses that have a similar model to the one you are creating
Know what you want to do or have an idea? Have someone in mind who does what you want to do? Connect with them.
Check out the section below, "The Magic Mentor Search Tool", and use the free search tool that uses Google search modifiers to search the LinkedIn and Twitter database.
Not sure what you want to do? Scroll to the bottom "Not Sure? Help With Vocation" section in this article.
Fill Your Environment With Positive Influence.
Putting the best, most inspiring, most healthy, most spiritual, most true into your environment and surrounding yourself with the best- it's work. Important work. It's constant curation. Be careful with who and what you bring into your environment and check your priorities regularly. Build an ecosystem for growth.
I call it "cool curation" in my classes. Find what calls you to grow. What lights you up? What gives you an "Ah-Ha!" moment? Find it, inspect it, digest it, use it as a guide, model it, copy it, play with it, then do it in your own style.
Positive influence changes and transforms the participant.
Take Action.
Being ambitious isn't enough. Far more important than ambition is commitment.

When you're committed to something, you will be and do what is required for the attainment of that thing. You'll stop wondering and start building. You'll stop being distracted and start learning. You'll start connecting. You'll start failing.

-Benjamin Hardy
It starts with exposure. Then observation. Then consumption. Then participation and experience.
ACTION – that's the important part. Courage to act. Sometimes acting while uncomfortable, in spite of feeling or thinking uncomfortable thoughts, is where the most growth happens. It can be freeing to "do the thing that needed doing". What is the next right action? Do it.
"I should be a professional cheerleader. I love being able to cheer people on and say, 'Whatever you can do right now, go do it.' "

–Kaisa Keranen
Celebrate.
I drink a cup of apple juice and crank up the music to celebrate small wins.
Celebration and gratitude grooves good habits. It's important to groove positive growth mindset and good choices. Writing it down helps document progress.
Gratitude and Goal Journal
Celebrate what you experienced yesterday and what you are grateful for in the present moment. I've found that the habit of putting it in writing in a daily journal, along with written goal setting, compounds into rewarding days. Visualize the best day ahead. Put it in writing, then act. Regularly choose to take action.
Build Your Environment By Connecting With Great People
"Brick by brick my friends. Nothing happens over night and no moment is ever 'the moment.' You just gotta keep on building, and moving, and doing .."

-Gary Vaynerchuk
[paraphrased from this Gary Vaynerchuk video]:
Find RAD people-distribution hubs
On spec find 87
Connect with them on social media
If you get 87 no's consider it a win. It's an answer, if so, reframe your message.
If 1 says yes and shares, you get a brick in the wall.
Surprise and delight them
I tested this, on spec (I love that phrase), and contacted my favorite New York Times Bestseller authors who are most influential on my thinking and career.
Only 3.
One responded positively and may be scheduled for a recorded Skype in September! It happens to be my favorite and most prolific psychologist, Dr. Benjamin Hardy!
I reached out via his web site to his assistant, Ms. Whitney Bishop. She was charming and kind, asking for clarification on my request and letting me know that Ben has crazy deadlines. She suggested connecting in August for a September recorded Skype call. I'm excited to speak with him.
The purpose of the chat is to get Ben's insight on college and vocation, noting his experience and path to his successful career.
I want to share this interview to inspire everyone to reach out to their favorite mentors.
I also want to inspire the use of cellphones and Skype to produce your own portfolio of interviews with mentors, so I will record my interviews on my phone and share it as an example.
From Dr. Benjamin Hardy: "How To Learn In 2 Days What Normally Takes 6 Months"
Please read the full article here. I'm always inspired by his prolific and positive work. He sends daily emails with deep and inspiring content.
Here is an extended quote from his article:
Research has found that having clarity about your goals is essential to having motivation to achieve those goals.

If you're not clear on what you're doing, it's hard to be motivated. Which is why seemingly easy tasks, like sending a fax, could end up taking months. There's a lack of clarity on how to do it, so you don't — until either you have to or it's too late.

Can you relate?

Unfortunately, having a lack of clarity is why so many people settle for less than their dreams. Said Robert Brault, author of Round Up the Usual Subjects, "We are kept from our goal not by obstacles but by a clear path to a lesser goal."

You want clarity so bad that you're willing to settle for lesser goals, simply because the path to getting your true goal is less obvious.

If you want to achieve big things, your path will be unclear and hazy. The emotional need for clarity and fear of the unknown leads people to abandon their dreams for more straightforward pursuits.

Having goal clarity is essential to motivation. Consequently, in order to get motivated to achieve your big dreams, you need clarity. However, this does not mean you have "it all" figured out. It means you're clear on the next step or two.

If you're at mile marker 1 and your dream is at mile marker 50, you just need enough info and support to get to mile marker 3 or 4. Once you get there, you'll need further instructions. But you have no clue what those instructions will be, because you don't currently know what you don't know. When you get to the next step, you'll be able to ask better questions. You'll be able to better assess who can help you get to mile marker 5, 6, 7, or 8. What got you here, won't get you there.

Here's what you need to move forward right now:

A clear "check-point" (so you actually know what to do)
A hard and fast time-line
The right tools and systems
A support structure

-Benjamin Hardy
This mindset helps get to productive action. I see it in the school setting all the time. When a student writes down a goal prior to doing it and commits the time and energy to clarifying the goal by asking questions to remove obstacles in the way, immediate action, growth, learning, achievement and progress takes place.
The "time to take action" variable here is huge and should be taken seriously.
Sometimes It's "What To Do?", Sometimes It's "What Not To Do?"
When a student does not commit the time to writing down a clearly defined goal, they stay uncertain and a massive amount of time can be spent avoiding growth.
The lesser goal is usually a distraction with a cellphone notification from Snapchat or other social communication. Students who frequent this habit and behavior fall behind and spend HOURS without a productive direction requiring frequent redirection. Uncomfortable, "bored", or uncertain feelings trigger this behavior.
A support structure, like a parent, teacher, or coach can help bring awareness to the uncertainty and time spent away from the productive task at hand.
When a student begins to pay attention to the trigger and develops a habit to communicate, clarify and research the question that is the obstacle, major progress happens.
Train Your Brain. Uncomfortable = Signal For Immediate Action Toward Clarity and Growth.
Use the feeling of uncertainty or feeling uncomfortable as a sign or guidepost for progress. Celebrate it. Train your brain to pair the feeling with immediate action toward clarity and growth. Raise your hand, reach out for help, start searching for the answer or next step.
Goal Checklist: Use Your Phone to Connect With 3-5 Mentors For Clarity. Start With One.
When you know what you want to learn, research who can help you get where you want to be. Define who does what you want to do best. They will help clarify any uncertainty and give guidance that shortens the time to take action.
Rather than trust the marketing message that the school, course or book is selling you, could you pioneer your career through the simple action of connecting with people currently doing it best?
Write these questions down and start to fill in the answers. Writing it down makes it statistically more likely that you will achieve what you intend.
Who Does What I Want to Do?
Who does what I want to do at the highest level?
Who is currently going to school in this field?
Who is one year out with a degree in this field?
Who is five years out with a degree in this field?
What are the different subsets of careers within this field I can also research?
The Magic Mentor Search Tool
Use https://recruitin.net/ to find people by their job title, degree, college, and location, then connect with them on social media.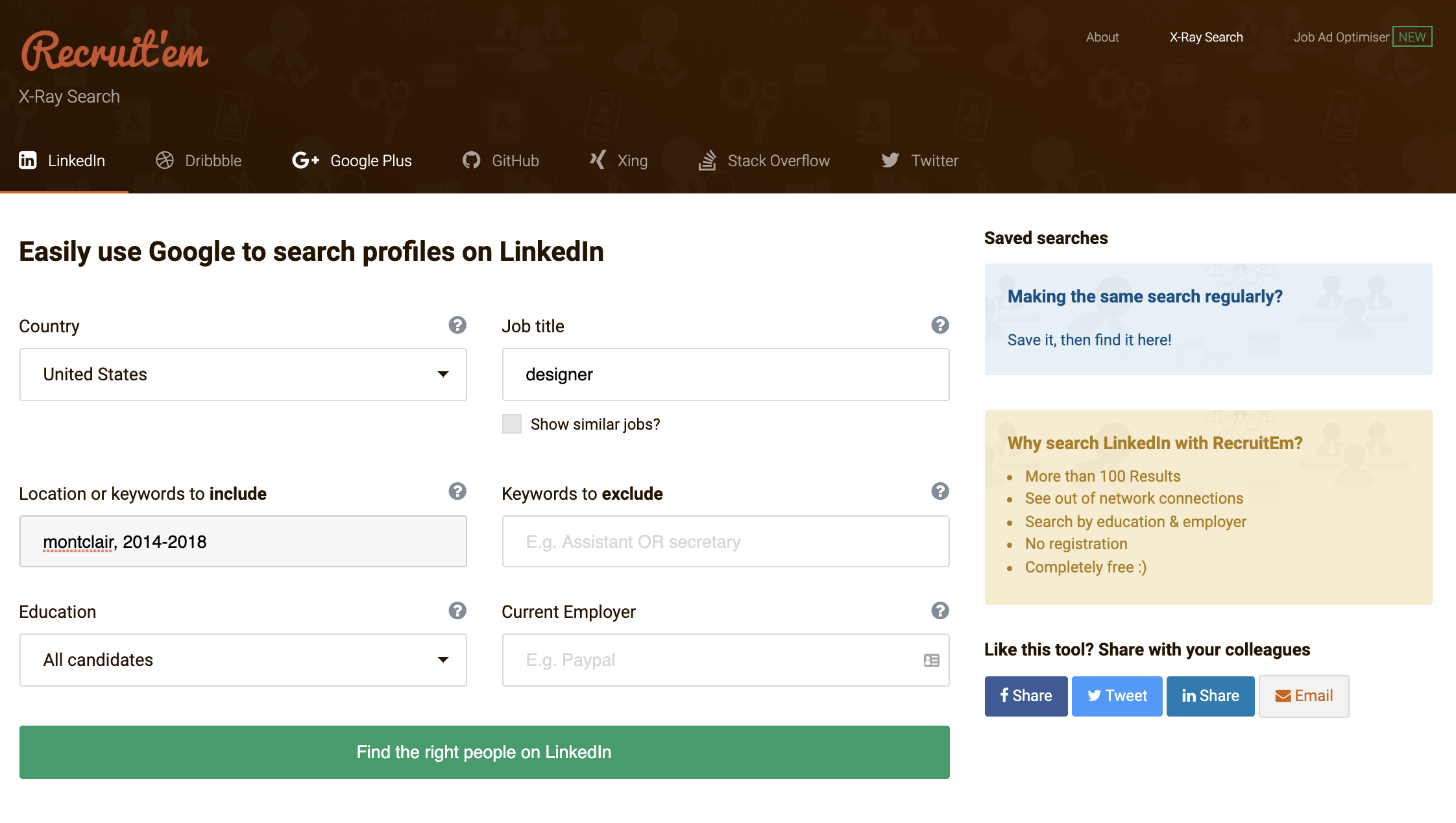 This site is a simple graphic interface that uses Google search terms to search the Linkedin and Twitter database. You'll have to be diligent, adjusting search terms and looking sequentially through profiles. This step can throw up some roadblocks and may take some time to dial in your search words. Be prepared to try 50 or more different searches before you find the right people. Use keywords like jobs, college majors, colleges, awards, locations, years, companies, and skills you may be interested in. You can also try the same search terms but search Twitter by clicking the Twitter tab at the top of the search window.
This is the easiest way to find real people who may or may not have a trending social stream that hits your radar.
*Quick Tip: keyword to include: graduation year, example "2014-2018".
Did you find on or more people in each of these categories?
Who does what I want to do at the highest level?
Who is currently going to school in this field?
Who is one year out with a degree in this field?
Who is five years out with a degree in this field?
What are the different subsets of careers within this field I can also research?
Now you are ready to start connecting.
Contact Mentors With A Simple Request.
Contact them and others like them, ask what they recommend for training. Ask what to do, what not to do.
Contact the training (college or person).
Contact people currently in training.
Contact people 1,3,5 years out of training.
Time and cost spent doing this:
A few days or hours? ~1-3 months?
Do you have a cellphone? Who pays for it and what does it cost? It's far less than the cost of formal or traditional instruction.
The cost of a school, college, book or course: 0-60k per year. Before you commit to an investment of four years and potentially $240,000, does it make sense to do research with people who have experience, credibility, maybe even the best in class; then act on new insight?
Match and Mirror
What are the channels they use and which do they prefer to contact them? Are they interacting on their channels? What do they respond to? How do they interact with comments and replies?
Is it Facebook, Twitter, Instagram, Website, Linked In? What are their preferred platforms?
What will you use to connect? Email, Phonecall, Skype, Hangout, Facetime, podcast, coffee in person? Decide then try one. If that doesn't work, you may need to add some value to their day before they recognize your request.
Consider their perspective and think about what they might have going on in their business/career/personal life and honor that.
Do they have a channel on Youtube that helps people for free then sells membership and courses?
Participate in their culture and they may be more likely to respond.
Ask yourself:
Do I have a channel?
Do I help people for free?
Could I buy their membership?
Can I use Match and Mirror to develop my email/request for time?
Does it have to be polished and formal through their personal assistant or is this more casual?
Craft a message that gets a response, then schedule an interview.
"Hey I love your work. I'm working toward a career in your field, could we speak for 15 minutes? Maybe on a Skype call?"
Is this something you can copy and paste in an email, tweet, or DM? Is it enough to get your foot in the door?
Or do you need to participate in the ecosystem a bit more, share their tweets, leave insightful comments before you ask? Check out Gary Vaynerchuk, Jab, Jab, Right Hook for more.
Explain succinctly what the discussion might be:
"I'm asking for college and career experience and advice."
Keep following up until you get a yes reply. Reply to schedule a time and date. Give 2 alternatives. Ask if it is ok to record the chat to post on your social media.
Call exactly on time. Use Skype. Click the record button.
Be gracious and friendly. Ask follow ups if you are unclear, but end after 15 minutes.
Questions To Ask Mentors:
What do you recommend for training?
Is there anything you would recommend me to do?
Is there anything you would recommend me not to do?
Do you have any advice for getting internships and meaningful work even at the high school/ college level?
What's your experience with scholarships/ financing college tuition?
How did you try to get your foot in the door before you had your big break?
What is the toughest part about what you do?
What was your big break?
Best networking tip for your industry.
Best networking tip for college.
Best college success.
Best career success story.
Worst college mistake.
Worst career mistake.
What would you say to someone who aspires to have a career like yours?
Here are a few from Tribe of Mentors by Tim Ferriss:
How has the failure, or apparent failure set you up for later success? Do you have a favorite failure of yours?
What advice would you give a smart driven high school or college student about to enter the college world or real world? What advice should they ignore?
What are bad recommendations you hear in your profession or area of expertise?
Follow Up With A Thank You
Send a follow up message thanking them and note your biggest take away. Occasionally send them very short updates or interesting articles or links relevant to their interests.
Try a networking request. It can't hurt to ask.
Who is someone else you would recommend I should be talking to?
Who's that guy or gal that's doing it best in your mind?
An Example Of A Mentor Interview
Leah Skype called two alumni from her high school that were juniors in their digital media and journalism college programs. She asked about the research they did for college, things they are doing in their different schools and classes, things they were learning, the opportunities and resources available to them, the choices they made to get themselves there, whether they felt that they made the right decision, the things they liked and didn't like about the school they were in, and their overall experience and advice for someone who is pursuing a related field..
Through research and conversing with others in various fields and degree programs, Leah gained insight and clarity on what she wanted to pursue by learning what she didn't want.
She took dual-enrollment courses in high school through the local community college that allowed her to earn 54 college credits. She started at Liberty University as a junior, skipping all of the lower level general education classes and starting right away with upper level courses in her core focus area.
She earned a full scholarship by training hard (PSAT books, Khan Academy, tutors) for the PSAT and earning a National Merit Commended Scholarship and multiple local scholarships (Rotary, Credit Union).
Due to her jumpstart on college credits, she is able to double major in Digital Media Video and Graphic Design with a minor in Spanish and still graduate in four years.Leah networked with her teachers to connect with local businesses, producing content for their social media pages while in high school. She started at 16 years old earning income and experience in her career path.
Not Sure? Help With Vocation
If you need some inspiration for vocation and aren't sure about the path forward try working through these questions in writing.
This section comes from a favorite book from David Brooks, The Second Mountain, The Quest for a Moral Life:
Mr. Brooks poses these questions:
What do I enjoy talking about?
When have I felt most needed?
What pains am I willing to tolerate?
What would I do if I weren't afraid?
What problems are around me?
What has life given me for preparation?
What is life asking of me?
What is my responsibility here?
How can the two go together?
What actually gives me deepest satisfaction?
Is there a deep gladness with something that may satisfy the world's deep hunger?
What activity do I love so much that I am going to keep getting better at it for decades?
What activity do I love so much that it captures me at the depth of my being?
And here is one that I reflect on all the time: What is the highest and best use of my time on Earth?
The Transformed You
David Brooks takes what Ben Hardy states above, "you don't currently know what you don't know", a step further stating:
"[…] you have no data about the desires of the transformed you."

David Brooks
You can't be sure what your transformed self will want, need and value.
You can take a step toward a future goal, and when you act on it you'll get new questions and answers. We all want to limit cost and regret, but the cost of time spend doing tasks of limited importance and value (the opportunity cost), versus the benefit of action, even if it's uncertain, outweighs cost.
Here are examples of transformational experiences:
"marriage[…], having kids[…], emigrating to a new country, converting to a different religion, going to med school, joining the Marines, changing careers, and deciding on where to live. Every time you make a commitment to something big you are making a transformational choice."

-David Brooks
The chapter goes on to compare different paths to vocation.
David Brooks on Vocation Strategies: "You Just Know", The Calling, Obligation, The Rational Model
"You Just Know"
Emotional knowing or going with your gut may be fleeting, it may be more trustworthy in arenas you have experience in, but may be guessing that leads to long term consequences.
The Calling
"Does it feel like it captures you to the depth of your being?"

"The core theme of this book-to fall through the egocentric desires and plunge down into the substrate to where your desires are mysteriously formed. You are trying to find that tension or problem that arouses great waves of moral, spiritual, and relational energy."

– David Brooks
I know in the depth of my being that helping people find and optimize time spent doing moral, spiritual and relational work will change the world; it's my personal calling.
Ask yourself deep questions. Break the quote above down. What arouses moral energy? What arouses spiritual energy? What arouses relational energy?
If I were to answer each of those questions simply, as a Christian, my belief it is to love others as Jesus did. Love and serve.
Obligation
"Sometimes it's a problem that burns at your conscience. If you work at a normal office doing some sort of organizational job, you're probably not going to be thrust face to face with some gigantic social problems. But if you get a job as a teacher at a school on an Indian reservation, you will see injustice face to face."

– David Brooks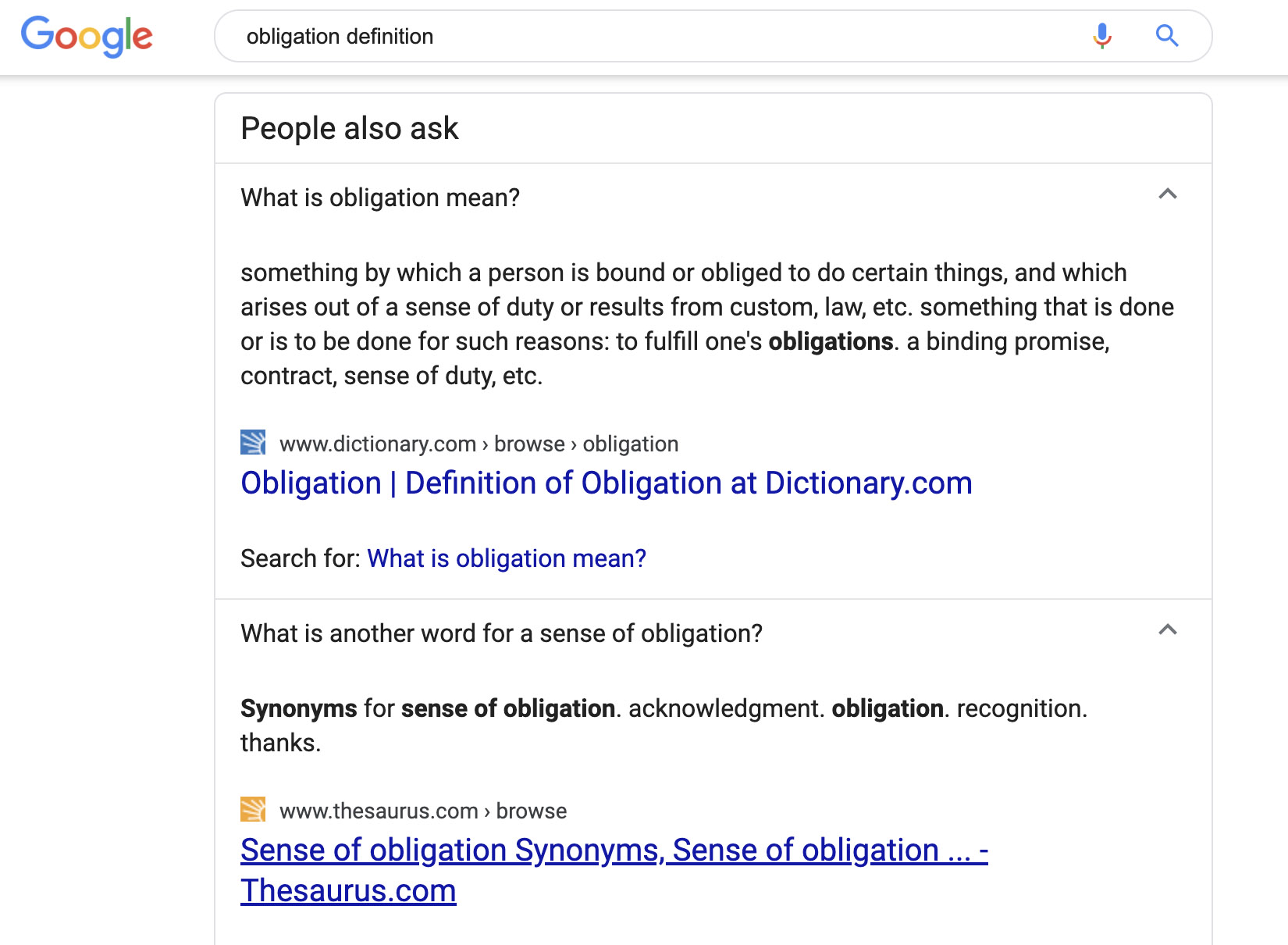 Sense of obligation and duty may come from appreciation. Brooks tells the epic story of Fred Swaniker who was born in Ghana, his father a magistrate and lawyer. He was awarded a scholarship in the US, moved on to a degree at Stanford Business, and felt obligation to provide opportunity for African children. He founded the African Leadership Academy which is building college campuses in Africa, providing free education and partnering with universities abroad as long as students commit to return to Africa to reside and lead.
The Rational Model
"Decision-making experts fill books with clear decision stages: preparation (identify the problem; determine your objectives), search (assemble a list of possible jobs or people that will help you meet your objectives), evaluation (make a chart and rate the options on a 10-point scale according to various features), confrontation (ask disconfirming questions; create constructive disagreement to challenge existing premises), selection (tally up the scores; build a consequences table that will help you envision the future outcome of each choice).

If you follow this kind of formal methodology, you will certainly be able to apply some useful frameworks. For example, when you are considering quitting your job, apply the 10-10-10 rule. How will this decision feel in 10 minutes, 10 months, 10 years? That will help you put short-term emotional pain of any decision in the context of long-term consequences.

-David Brooks
The strategies listed above are great writing exercises. After thinking through a few of the suggestions I put together some questions I use when making decisions on how to invest.
Cost Benefit Tools
Here are some cost benefit analysis questions and resources I've gathered to help rationalize paying for a degree or coursework.
What is the acceptable amount of investment? How is it paid?
What is the cost of reading books, listening to podcasts, college/training/mentoring?
What is the return on the investment? How much do you make annually?
This site gives some actual costs and average income returns. I don't think it's a total answer to the cost benefit equation, but it's a helpful tool. Here is how the site calculates ROI:
20 Year Net ROI:
Difference between 20 year median pay for a bachelor's grad and 24 year median pay for a high school grad minus total 4 year cost of college.
*Note, this is based on the average salary for each, which makes it less accurate when the variance can be huge depending on success over a career, but it does fix a controlled variable across all colleges and careers.
Example:
*note: these are listed in a heads up display on the site without having to do any math and can help to put numbers in perspective.
Montclair costs $121,292 for 4 years
BFA Graphic Designer Avg Salary from 2019- $51,000
High School Degree Avg Salary from 2018- $35,000
20 year gross income after 4 year college degree- 51,000 x 20=$1,020,000
24 year gross income no college- 34,000 x 24=$840,000
20 year difference in income- $1,020,000-$840,000=$180,000
20 year difference in income minus cost of college= $180,000-$121,292=$58,708
Annual ROI: 20 Year Net ROI / 20 = Net per year / total investment cost (total cost of college)
58,708/20 = 2935.4/121,292 = .024 or 2.4% Annual Return On Investment
Understand Best Case, Worse Case, Likely Case
Diligently working through the numbers and thinking rationally can give perspective. Charlie Munger of Berkshire Hathaway teaches rational thinking: have the best case, the worst case and the likely case researched, understand the second and third order effects, control any biases in your thinking and you can make good choices.
Be diligent. Find the intersection of right and wrong. Look at it from all angles.
Summary: You Can Do It. Take Action.
Take on one step a a time for clarity. Simple steps, then try the next one.
Select a vocation. What lights you up?
Not sure? Copy the questions above, write your answers.
Fill Your Environment With Positive Influence- reading, listening, and watching good content.
Take notes, visualize and write goals and note wins-gratitude and goal journal
Know what you want to do or have an idea? Find people who do it.
Use social media or recruitin.net
Draft a simple request asking for a 15 minute chat or copy the one above. Send it.
Keep following up until you get a yes reply. Reply to schedule a time and date, give 2 alternatives. Ask if it is ok to record the chat to post on your social media.
Call exactly on time. Use Skype. Click the record button.
Ask the questions listed above. Take notes.
Be gracious and friendly. Ask follow ups if you are unclear, but end after 15 minutes.
Send a follow up message thanking them and note your biggest take away. Send them very short updates or interesting articles or links relevant to their interests.
Contact the best and most inspiring people you can find.
Contact the training (college or person).
Contact people in training.
Contact people 1,3,5 years out of training working in the field
Try to set up work or internships doing what you love right away. Show anyone you contact your portfolio of interviews and the work you do.
Run the cost and prepare financing, decide on training.
Apply to training or colleges.
In your college or job interviews show your portfolio of mentor interviews and the work you do.
Keep connecting with people who do great work and cool curating.
Do great work and share it.
Take an irreverent, deliberate approach to your goals. Be untraditional and self propelled with your research. Be ambitious, discerning and goal-oriented. Be different than your peers. Stand out. Create a positive growth environment. Build a community around that.
Once you find the path, take action, then you move on to "how can we improve every single detail?" The information you learn will guide you.
Write each step down. Take notes when you find good information. Do it now on any piece of paper or device that can type. When thoughts turn into things, matter, words on paper, they are statistically more likely to become reality, you act on them.
Ready To Take Action?
If you want a goal prompt in your email inbox sign up for free here.
I can be your first Skype call if you don't know where to start. I can listen and ask questions. Schedule 15 minutes with me if you are interested.